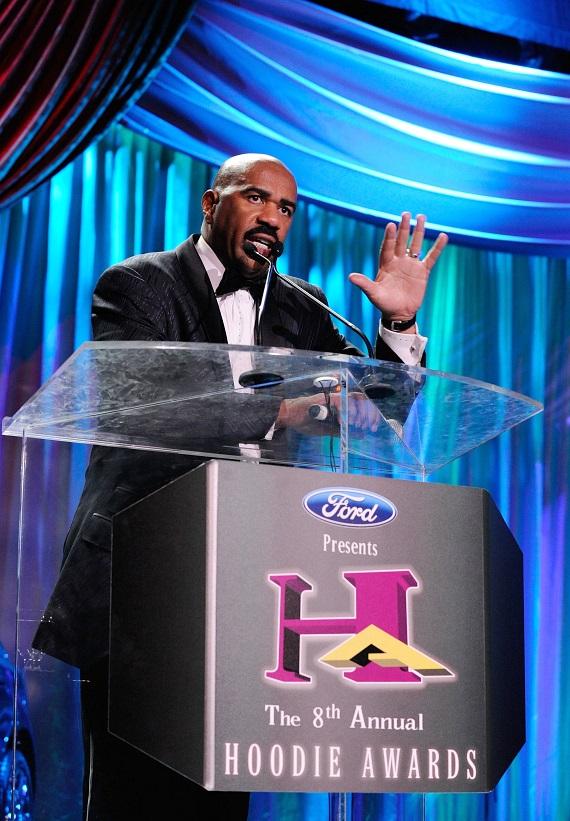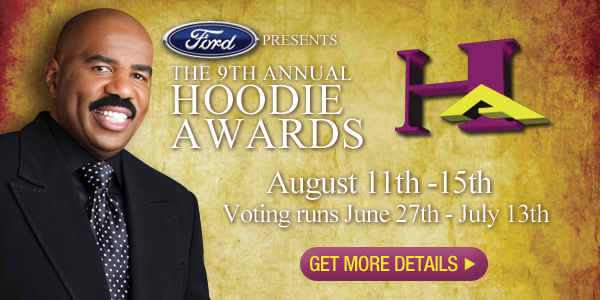 This weekend Steve Harvey brings his 9th Annual Hoodie Awards to Vegas!
Being held on August 13 at the Mandalay Bay Resort and Casino in Las Vegas, the Hoodie Awards recognizes some of the best in black businesses, schools and leaders in communities across the nation. Presenters for this year's 9th Annual Ford Hoodie Awards include: Kevin Hart, Kyle Massey, Tichina Arnold and George Wallace, with live performances by R&B Soul stars Kem, Jill Scott, plus Gospel singer Kirk Franklin.
One thing I love the most about this awards show is that it celebrates everyday people like you and me; especially with the community leader award which recognized men and women for their dedicated passion and service to their. Categories this year include:
Best High School
Best High School Teacher
Best Church
Best Church Choir
Best Soul Food
Best Barbecue
Best Fried Chicken
Best Car Wash/Detail Shop
Best Beauty Salon
Best Nail Salon
Best Barber Shop
Best Community Leader
Beyond the awards the sold out weekend includes a Ladies Gambling Night, State Farm's Singing Hoodie Finales hosted by Cedric the Entertainer with performances by Eric Benet and Lavell Crawford, an Interactive Expo and lots of parties with Maze and Frankie Beverly, Faith Evans, DJ Kid Capri, MC Hammer and Raphael Saadiq. On Sunday it's all about charity with the Charity Golf Tournament benefiting the Steve Harvey Foundation, hosted by Harvey himself. The event will be held at the award-winning championship course TPC Las Vegas. All proceeds from the tournament benefit The Steve Harvey Mentoring Weekend for Young Men. The giving is set to continue on Sunday night with a Charity Beach Party at the MandalayBay Beach featuring a live performance from Raphael Saadiq and MC Hammer!
If you are in Vegas, The Steve Harvey Morning Show presented by Outback Steakhouse will also be broadcasting live on Friday, August 12.
For tickets or more information please visit SteveHarvey.com/HoodieAwards!
About the Hoodie Awards
Created in 2001 by Steve Harvey & producing partner Rushion McDonald, The Hoodie Awards recognize the countless contributions and dedication of the everyday men and women who are the backbone of their neighborhoods, working together as independent businesses, churches and more to nurture and strengthen their communities. Always a packed event, the Hoodie Awards is an event that the superstar entertainer and New York Times best-selling author looks forward to hosting every year, saying "In tough times and even in good times, it can be difficult for independent businesses and entrepreneurs to thrive, and these individuals continue to be beloved in their community for everything they do teaching the kids, inspiring their congregations, and enriching the neighborhood with their hard work and expert service." Harvey adds, "I am blown away and humbled by the throngs of men and women who come to enjoy Vegas and support each other at the Hoodies every year, and I am grateful for the supporters, celebrities and performers who help make these celebrations unforgettable and cheer on everyone's special accomplishments."
Source: SteveHarvey.com