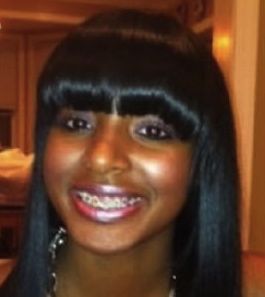 Case Type: Endangered
DOB: Jul 20, 1997
Missing Date: Jan 19, 2012
Age Now: 14
Missing City: Germantown
Missing State: MD
Case Number: USMDg12003097
Gender: Female
Race: Black
Complexion: Medium
Height: 5-7
Weight: 120
Hair Color: Black
Hair Length: Long
Eye Color: Brown
Wear Glasses or Contacts: No
Location Last Seen: The child is missing from Germantown, Montgomery County, Maryland.
Circumstances of Disappearance: Unknown
Last Seen Wearing: She was last seen wearing a blue shirt with brown and yellow flowers, blue jeans, black leather jacket, and black and brown Polo boots.
Identifying Marks or Characteristics: Breana has braces on her teeth.
Have information about Breana? Click here to submit information to the Black and Missing Tip Line!