The world was stunned at the news of Whitney Houston's passing, a shocker in our community that hasn't hit us this hard since Michael Jackson's passing. We truly lost one of the greatest voices of our time and she will forever be missed. At BCG as always we celebrate the positive and today we pay homage to Whitney Houston not only for her wonderful musical contributions , but for her charity work, a true Black Celebrity Giver!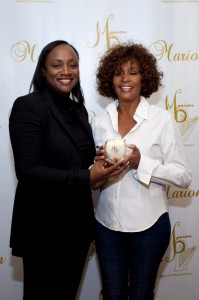 Since her debut in the 1980′s the actress and Grammy award winning Whitney Houston has always been a socially-conscious giver and supporter of so many causes in our community!  Most recently, in 2011 Whitney Houston has partnered with her sister, Patricia Houston, to develop a unique new scented candle. Called Marion P, the  line consists of five scents inspired by a trip to Israel that Whitney and Patricia took several years ago. A portion of the proceeds from the candles has benefited the Teen Summit mentoring program which Patricia started in 2007 through The Patricia Houston Foundation. The Patricia Houston Foundation seeks to "Rebuild, Restore and Repair" the lives of young adults, and Teen Summit provides thousands of teens with opportunities to participate in workshops and hear speakers. Whitney described the candle as "an experience" and encouraged people to do a good deed by supporting the Teen Summit program. If you would like to purchase a candle in Whitney's honor today you can visit MarionPCandles.com.
During the times of Apartheid, a racial segregation enforced by the National Party governments of South Africa between 1948 and 1994, Whitney refused to work for agencies that did business with South Africa.  According to reports it was an issue that she later brought to the attention of the world when she performed at Nelson Mandela's 70th Birthday Concert in London, an event that brought pressure on the Government to ease its restrictions and eventually release the future president of South Africa.
In 1989 Whitney formed the Whitney Houston Foundation for Children, the foundation aided sick and homeless children, and worked toward the prevention of child abuse. The foundation at one time also worked to teach children to read, and built inner city parks and playgrounds. In past years, the foundation also has hosted a Christmas party for homeless children.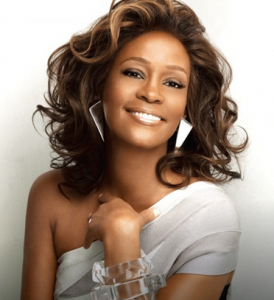 The foundation's work garnered Whitney several humanitarian awards. It is not clear when or if the foundation dissolves, however as of this report the website for the charity was down. In 1997, according to Look to the Stars, Houston performed an HBO Concert "Classic Whitney live from Washington DC" which raised over $300,000 for the Children's Defense Fund. Many don't know this, but Whitney Houston's amazing performance at Super Bowl XXV in 1991 in the midst of the Gulf War, made her the only artist to turn the national anthem into a chart hit when her rendition of The Star Spangled Banner reached the Top 100 in 1991; she donated her royalties to the Red Cross.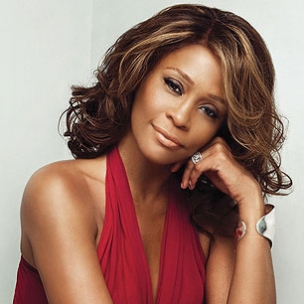 The Whitney Houston Intensive Care Unit is a thirteen bed multidisciplinary unit which provides high technology intervention for children who have experienced trauma or other life-threatening illnesses.  The Newark, N.J.-based hospital named its Pediatric Special Care Unit after Whitney Houston due to her giving. Children in respiratory failure can be managed with conventional or high frequency oscillation. Additionally, the unit is capable of providing non-invasive ventilation for patients with neuromuscular ventilatory failure, invasive hemodynamic monitoring for those requiring cardiovascular support and the monitoring and treating of patients with raised intracranial pressure. The PICU supports the only pediatric liver transplantation program in the state of New Jersey as well as the state wide trauma center of University Hospital. Air and ground transport teams are available to children in need of specialized intervention who are brought to University Hospital from throughout New Jersey.
Another organization that received immense support from the singer is the United Negro College Fund, she raised a quarter of a million dollars for the UNCF at a 1988 Madison Square Garden concert, appeared on at least two "Lou Rawls Parade of Stars" telethons to benefit the UNCF, and has been honored by the organization for her consistent giving with the Frederick D. Patterson Award. One of Whitney Houston's first gigs was a benefit concert for the UNCF in which she sang "Tomorrow" from the musical "Annie.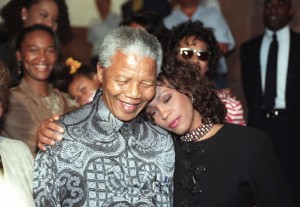 Here is a quick snap shot of other ways Whitney Houston gave back, courtesy of the Whitney Houston Fan Club!
The Juvenile Diabetes Research Foundation: Whitney Houston regularly attends their "Carousel of Hope" charity gala and was honored for her giving in 1996 with the Brass Ring Award.
St. Jude's Children's Research Hospital: Founded by the late actor Danny Thomas, this hospital helps critically-ill children without asking for money from their parents or guardians. It is subsidized completely by charitable giving. Whitney Houston has given so much to the hospital over the years that the founder's daughter, Marlo Thomas, honored her at a charity banquet in 1994.
New York Firefighters and Police: Whitney Houston re-released "The Star Spangled Banner" charity single to benefit the New York Firefighters Disaster Relief Fund and the New York Fraternal Order of Police Fund following terrorist attacks on September 11, 2001. She waived her royalty rights to the single, which went on to top the U.S. sales charts in October 2001 and raised more than $1 million.
The Children's Defense Fund: All of Whitney Houston's proceeds from her two "Classic Whitney" concerts in Washington, D.C., totaling a quarter of a million dollars, were donated to this charity.
The National Birth Defects Center: The Boston area center named its Hearing & Language Disorder Clinic after Whitney due to her giving.
Hale House: Whitney Houston donated enough to this Harlem-based charity that they were able to build a Learning & Recreation Center.
Rainbow House: Whitney Houston has provided financial assistance to this shelter for adolescent mothers and for children with HIV and AIDS.
Russian Aid Fund: In February 2004, Whitney donated 1 million rubles to the Aid Fund for victims of a bomb attack in the Moscow subway. The funds were raised by her performances in Moscow.
T.J. Martell Foundation: Whitney Houston has supported this foundation, which funds research for leukemia, cancer and AIDS.
Harlem Boys Choir, New Jersey State PBA, and The Youth of Atlantic City: Whitney donated proceeds from her only 1990 U.S. concert appearances to these three charities.
Debt Relief: Whitney supported a cyber petition by international debt relief campaign Jubilee 2000 to persuade world leaders to erase debt owed by 40 of the world's poorest nations.
Wyclef Jean Foundation: Whitney Houston participated in a Carnegie Hall benefit that earned about $250,000 for this foundation in January 1991.
Welcome Home Heroes: Whitney's Easter Sunday 1991 concert in Norfolk, Va., was free for returning Gulf War veterans and their families. HBO, which televised the event live, encouraged cable systems to descramble their signal so everyone could enjoy the show for free.
1994 Rainforest Benefit: Whitney Houston made a surprise guest performance at this event, notable for Whitney's singing a bit of "La Donna e Mobile" from Giuseppe Verdi's opera "Rigoletto." She also performed "If It's Magic" and "I Will Always Love You."
For the 1992 movie premiere of "The Bodyguard," proceeds went to The Whitney Houston Foundation For Children and to the Magic Johnson Foundation for pediatric AIDS research .
For the 1996 movie premiere of "The Preacher's Wife," proceeds went to The Whitney Houston Foundation For Children, the Boys & Girls Clubs of America (Denzel Washington's choice) and a third charity chosen by director Penny Marshall.
Kurdish Refugee Relief 1991: Whitney performed at the "Simple Truth" concert at London's Wembley Stadium and allowed MTV to simulcast her performance of "Miracle" at her Oakland, Calif., concert during a telethon held for this cause.
Fighting AIDS: One of Whitney Houston's favorite causes, highlights include her performance at the Arista 15th Anniversary AIDS Benefit in 1990. She also flew to Los Angeles for the "Commitment for Life" AIDS Benefit in 1994 from her South American tour, and then immediately flew back to resume her concert tour.
Fighting Cancer: Another of Whitney Houston's favorite causes, Whitney performed at a Cancer Research Benefit at Howard University in Washington, D.C.
Michael Bolton Foundation: This charity honored Whitney for her giving in 1995 with a fund-raising gala. In 1997, Bolton's foundation joined forces with Whitney's foundation to honor other charitable artists at a fund-raising gala.
Emmanuel Cancer Foundation: Whitney was unable to attend a 1990 benefit held in her honor, so she turned it into a food drive to benefit this New Jersey chidren's organization.
Special Olympics: Whitney performed at the Opening Ceremonies in 1987 and recorded "Do You Hear What I Hear" for free for their first "A Very Special Christmas" benefit album in 1989.
1988 Olympic Games: Whitney Houston recorded the song "One Moment In Time" for an album of the same name to benefit Olympic athletes.
Ronald McDonald Children's Charities: The South Florida arm of this organization honored Whitney for her giving.
The Bronx Zoo: Whitney Houston donated two lion cubs to the Bronx Zoo in New York City in 1989.
For her 1992 wedding to New Edition Star Bobby Brown, Whitney asked attendees and fans to contribute to the Whitney Houston Foundation For Children in lieu of gifts.
Whitney Houston has been honored for her charity work by the VH1 Honors in 1995, The First Annual Triumphant SPIRIT Awards by Essence Magazine in 1997, and 1998 Trumpet Awards (organized by Ted Turner).
Today and always we remember and salute Whitney Houston!