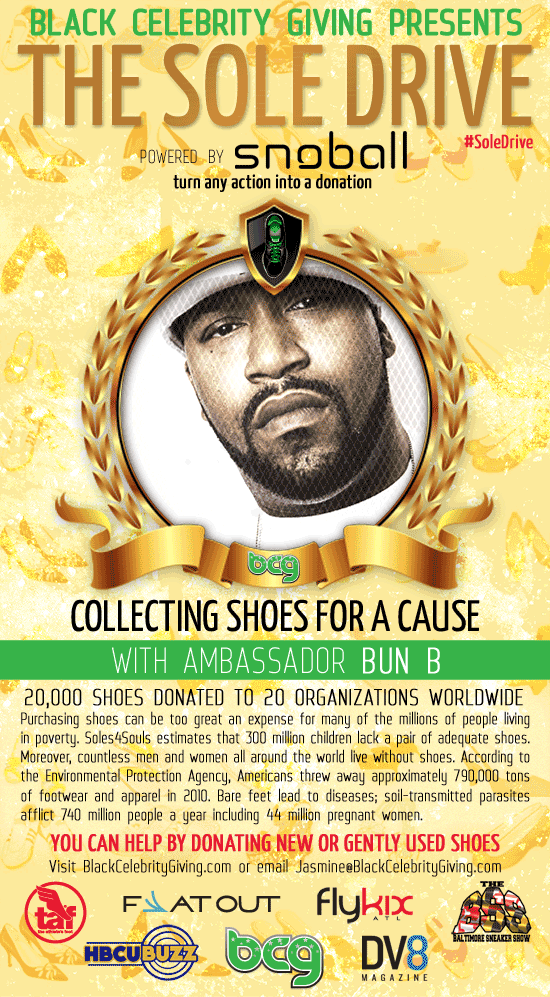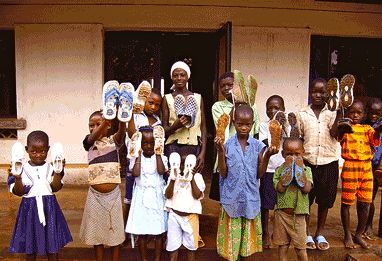 Having just completed our summer cause campaign with Neo-Soul artist KEM, BCG collected more than 10,00 items and supported more than 15 organizations nationwide. As we officially approach fall we are preparing to launch our next national cause campaign "The Drive for the Sole." A nationwide shoe drive to support the thousands worldwide  that go without shoes on a daily basis. We have been working diligently to establish drop off locations across the country; with the support of several businesses and sneaker aficionado's we are excited to kick off this drive in just a few weeks.
The 'SOLE' Drive  – Fall 2012 Cause Campaign
 The BCG Cause: Poverty, fighting the cause by providing shoes free of cause to those who need it most! There are 2.2 billion children in the world, and 1 billion live in poverty. Soles4Souls estimated that 300 million children lack a pair of adequate shoes. And that's just children. There are countless men and women also living in poverty without shoes on a daily basis all around the world. According to EPA statistics, Americans threw away approximately 790,000 tons of footwear and apparel in 2010. Bare feet lead to diseases. Soil transmitted parasites –Hookworm, whipworm and roundworm afflict 740 million people a year, including 44 million pregnant women. Effects include low birth weights, malnutrition, and anemia.
The Goal: Raise 20,000 pairs of new or used shoes to be donated to 20 select organizations around the world for disbursement to those experiencing poverty and financial hardship worldwide.
The Campaign: The BCG fall campaign will kick off September 14th, 2012. Powered by SnoBall.com and lead the cause virally via Twitter, Facebook, Instagram and as allotted on-site appearances. The campaign is aimed at getting people to give back by donating new or used shoes to the cause drive. Through SnoBall.com our fans and fans of our celebrity ambassador can also support their cause through micro-donations surrounding the drive. Turning in action into action!

Activation Details: BCG will partner with key ambassadors in cities across the country to host shoe drive events and activities. Ambassadors will include: local professional athletes, DJ's, nonprofit organizations and business leaders. The campaign will be promoted via BlackCelebrityGiving.com, social media, select radio and television ads, banner ads and on the campuses of HBCU's this fall. Our media partner is HBCU Buzz, the most widely-recognized name in HBCU News. Student groups on HBCU campuses will participate in the drive by collecting shoes on campus and cleaning them. The campus that collects and donates the most shoes will receive either a special visit from our campaign celebrity ambassador or a scholarship for students in our celebrity's name. All participating schools will receive recognition and other sponsored gifts.
The SnoBall Effect: In partnership with SnoBall.com the 2012 Sole Drive will raise not only collect and distribute new and used shoes, but also raise funds for HBCU students and our celebrity ambassadors foundation(s). Individuals create what is call a "Snoball". An example might be: I will donate .1 cent for every pair of shoes donated to the BCG Sole Drive; 20,000 shoes = $20.
BCG will leverage the power of social networking to make that donation grow exponentially, hence creating the "Snoball Effect". The company's goal is to transform giving for non-profits to create a steady flow of income so large, time- consuming events become a thing of the past. We will embark on a campaign to get people everywhere to not only donated used and new shoes, but to also support HBCU students  and causes as countless individuals around the country support this drive. Our celebrity ambassador will also encourage people to support the drive by donating through Snoball, 93% of the donations will go to supporting foundations and selected scholarship recipients.

Having just celebrated one year of service to the world, BCG will continue supporting good news and giving back! BlackCelebrityGiving.com (BCG) is proud to announce our fourth cause campaign- "The Sole Drive.
Throughout the fall, BCG will host several Twitter chats and forums to bring further awareness to the cause, including celebrity Twitter Chats encouraging participants to pledge item donations to the campaign. The campaign will officially kick off on the first day of fall September 22nd, we will announce our celebrity ambassador on Friday, September 29th, the Sole Drive will last until November 30th, 2012.
Homeless shelters and programs interested in becoming beneficiaries of the drive are encouraged to send item requests to Jasmine Crowe at jasmine@BlackCelebrityGiving.com.
How Can You Help?
• Go through the closets at your house, collect new or gently used shoes. Mail your care package to BCG 5025 N. Central Ave. Suite 271 Phoenix, AZ 85012 C/O The 'Sole Drive.' Bonus, sending more than 10 pairs of shoes? BCG will pay for shipping!
•Host a designated drop-off location, BCG is seeking locations all over the country. If interested please email jasmine@BlackCelebrityGiving.com.
•Spread the word! Email your contact list; tell your friends on Facebook, Google Plus, Twitter and Pin this campaign on Pinterest! Use our official hashtag #BCGSoleDrive
•Form a giving team, set a goal and start collecting!
Stay tuned as we announce of official celebrity ambassador and more ways you can support this cause!
Drop Off Locations:
Houston-  SF2, Houston's hottest shoe and 'flyest' apparel retail store, will be major drop off locations, having 2 locations on both South and North side of Houston visit www.nicekicks.com/houston/sf2.
Star of Hope Mission; located at 1811 Ruiz Street, Houston, TX 77002 .
Atlanta-  FLY Kix is Located in the Castleberry Hill district of Atlanta, Ga. 275 Peters Street SW. Atlanta, GA 30313. www.flykixatl.com
New York-  Community 54 54 clinton st. New York, NY 10002 2126737060 Email- info@community54.com Web – community54.com.
Tampa – TBA
Phoenix – One North Central Ave. 13th Floor Phoenix, AZ 85004.