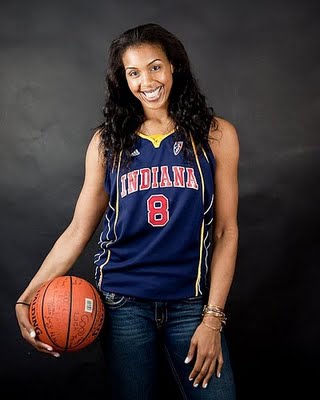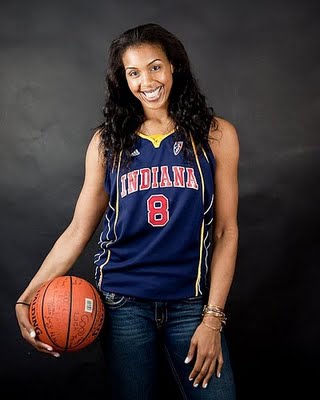 WNBA Champion Tammy Sutton-Bro​wn has a lot to celebrate, she just won her first and her team, the Indiana Fever's, first WNBA Championship last week! Congratulations to all the players, from one win to the next, the champ is also giving back.
She is launching her new powerful Public Service Announcement: "Think of Me: Mom & Dad, When You're Texting & Driving, Think of Me," through her Children's Book Series: The Adventures of Cree & Scooter (www.creeandscooter.com), to make parents and adults aware to be conscious NOT to text and drive with kids in the car. Attached is the information about "Think of Me."
Tammy believes that exposure to various culture, languages, traditions, and values enhances the quality of life. Her passion for travel and learning about what different countries and cultures have to offer is the inspiration behind Cree and Scooter. "My vision is to implement global education at an early age through Cree and Scooter. I want kids to be able to travel around the world without leaving the comfort of their home, school, city or country, engaging their imagination and sparking their interests."
"When you read, your world opens up. I want to encourage early literacy for kids, ignite a love for travel and exploration and form an appreciation for the world we live in, its languages, cultures and history. It is my belief that global exposure will enhance the lives of others beginning with our kids. Our world has changed and is continuing to change with the people from all around the world playing and living together, as well as attending the same schools. Kids will be in good hands with Cree and Scooter."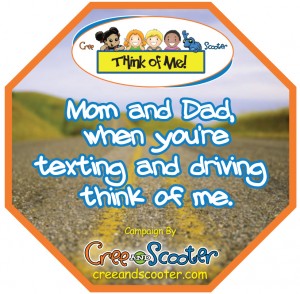 The mission of the Think of Me campaign is to reflect on texting and driving from a kid's point of view. The campaign aims to bring awareness to stop parents & adults from texting and driving while kids are in the car. The objective is for parents to be mindful that they are putting not only their lives in danger, but the lives of their children when they text and drive.
Readers can take the Pledge online at: http://creeandscooter.com/take-the-pledge; be sure to follow Tammy on Twitter @tksb15 and the Cree & Scooter brand @CreeandScooter.