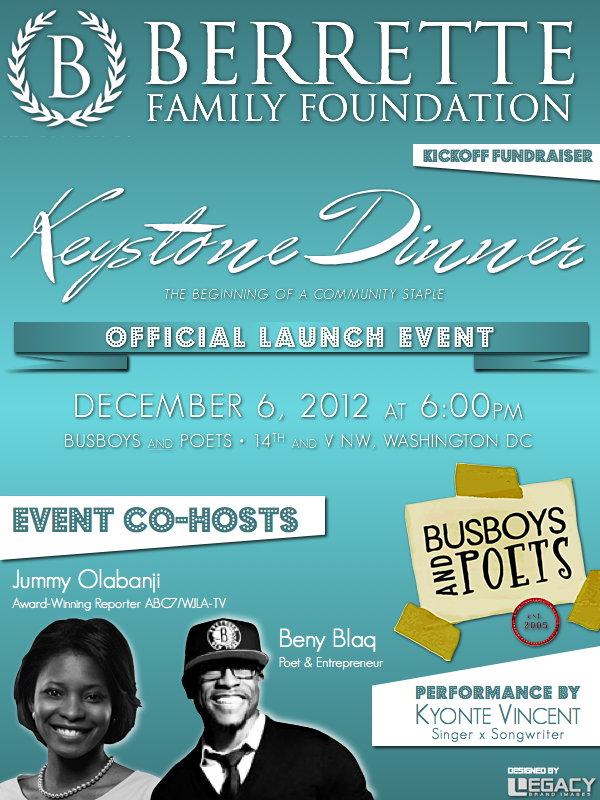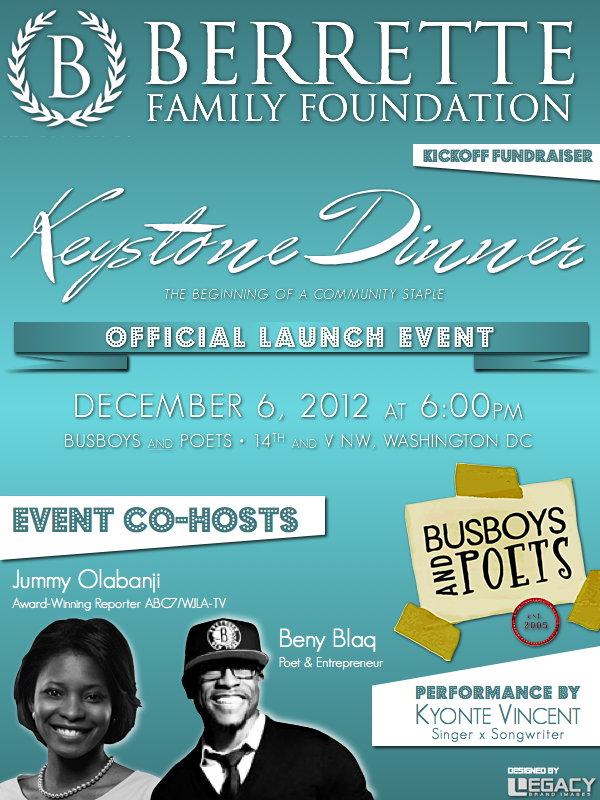 The Beginning of a Community Staple! The Official Launch Event of The Berrette Family Foundation
The Berrette Family Foundation Launch and Keystone Dinner, co-hosted by ABC 7 News Jummy Olabanji and Poet and Entrepreneur Benny Blaq, officially introduces the organization and its first group of students to the community.
WHAT: The Berrette Family Foundation Official Launch and Keystone Dinner will include: a sit-down dinner, silent auction and performances by DC's own, Grammy Nominated Songwriter Kyonte Vincent. The inaugural theme, The Beginning of a Community Staple, captures the objectives of both The Berrette Family Foundation and Busboys and Poets, showcasing their collective desire to transform the communities in which we live.
WHEN: Thursday, December 6, 2012 at 6:00pm
WHERE: Busboys and Poets – 14th and V St., NW Washington, DC
WHY: The Berrette Family Foundation's leading mission is to help students realize their potential by creating opportunities for their advancement. The success of these opportunities and of the organization going forward largely depends on the generosity of its' sponsors. The donations and ticket prices will fund both student scholarships and career advancement workshops – preparing students for both collegiate and professional success.
ADMISSION: Tickets are $45.00. To attend this event or make a donation, please RSVP at the following link. http://bfflaunch.brownpapertickets.com/
ABOUT THE BERRETTE FAMILY FOUNDATION: The Berrette Family Foundation is a non-profit organization that seeks to guide, prepare and provide first generation students of foreign descent in the Washington, D.C. and Baltimore metropolitan areas with the tools to flourish in high school and through post secondary education. The ultimate goal is to provide students with a path to success by helping them develop a plan of action to accomplish their long-term career goals.
For more information visit www.berrettefamily.org.