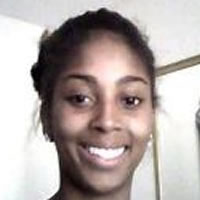 Phoenix Coldon
Case Type: Endangered
DOB: May 23, 1988
Missing Date: Dec 18, 2011
Age Now: 23
Missing City: St. Louis
Missing State: MO
Case Number: 11-76537
Gender: Female
Race: Black
Complexion: Medium
Height: 5-6
Weight: 125
Hair Color: Brown
Hair Length: Shoulder Length
Eye Color: Brown
Wear Glasses or Contacts: Yes
Location Last Seen: Phoenix was last seen leaving out of her driveway in her vehicle (1998 4-door Chevrolet Blazer with tinted windows: Missouri License Plate KE2S6V).
Circumstances of Disappearance: Unknown
Last Seen Wearing: Phoenix was last seen wearing grey sweatpants (UMSL or Linderwood printed vertically down one pant leg), dark hoodie (black or blue) and tennis shoes.
Identifying Marks or Characteristics: Pierced ears.
Have information about Phoenix? Click here to submit information to the Black and Missing Tip Line!