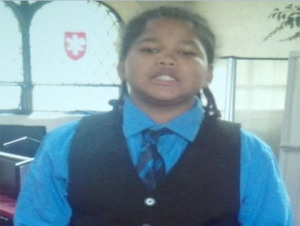 Reginald Matthews
Case Type: Endangered
DOB: Jan 15, 2002
Missing Date: Dec 22, 2012
Age Now: 10
Missing City: Queens
Missing State: NY
Gender: Male
Race: Black
Complexion: Medium
Height: 5-1
Weight: 150
Hair Color: Black
Hair Length: Medium
Eye Color: Brown
Wear Glasses or Contacts: Yes
Location Last Seen: P.S. 217 in Queens
Circumstances of Disappearance: Unknown.
Last Seen Wearing: He was wearing a red polo shirt, blue jeans, a black jacket, a blue winter hat, and neon green Adidas sneakers, he also wears black and green glasses.
Identifying Marks or Characteristics: Black corn rowed hair, a mole behind his right ear.
Have information about Reginald? Click here to submit information to the Black and Missing Tip Line.