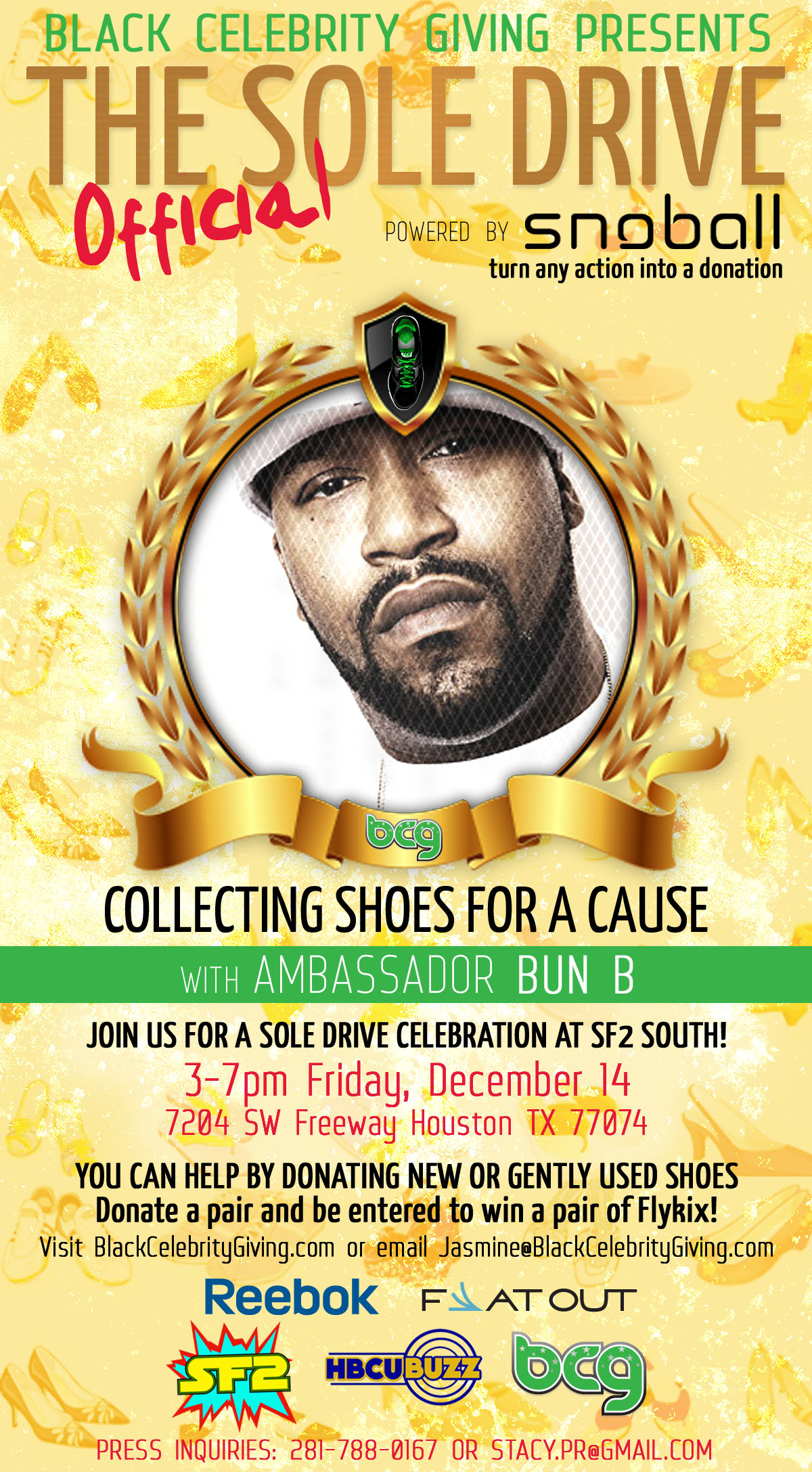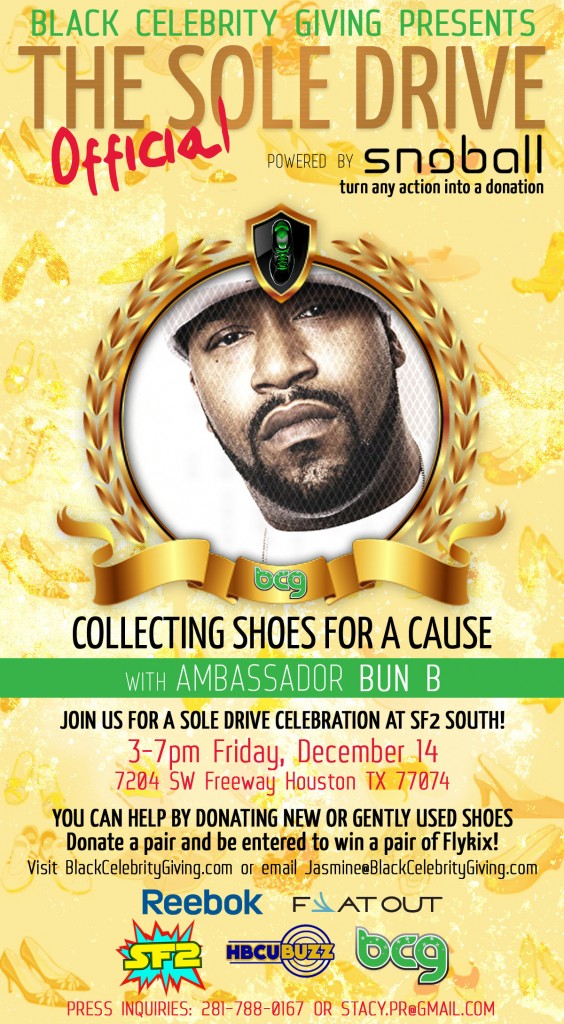 BlackCelebrityGiving.com (BCG) and Trill Rap Artist/Professor Bernard Freeman aka Bun B are very pleased to announce the official date for the 2012 fall cause campaign: "The Sole Drive", which will be held on Friday, December 14th, 2012 at SF2 South from 3pm – 7pm. SF2 South's physical address is 7204 SW Freeway, Houston, TX 77074, at 59 South and Bellaire. Saving this date may have been a blessing for many, as it is just in time for the holidays for those truly in need of shoes this Christmas.
The 'Sole Drive' is a worldwide shoe drive to provide shoes for free, for those who are most in need. The objective is to raise 20,000 pairs of shoes, to be donated to 20 select organizations around the world for distribution to those suffering from poverty and financial hardships worldwide. BCG has now collected over 11,000 shoes to date and still counting! BCG would like to give a special shout out to REEBOK for their generous donation as well.
Teaming up with the city of Houston's Ambassador Bun B, of the Grammy nominated Legendary rap group, UGK. Bun B has a passion for shoes, like most of us, who is very in tune with the struggle and is honored to have the opportunity to team up with BCG. Below is a quote from Bun B on the Sole Drive and how he feels about it:
"As much as I love shoes, it doesn't hold a candle to the love I have for the people of this world, especially those who can't necessarily help themselves. Partnering with Sole Drive makes nothing but good sense to me. I'm proud to be a part of this movement." – Bun B.
We are also having a FREE raffle drawing, with a chance to win a brand new pair of fly kicks from SF2, who carries the hottest shoes in the city!!! All you have to do is donate at least one pair to have the chance to win a brand new pair…and that's a deal you can't beat!!
For any homeless shelters and/or programs that are interested in becoming beneficiaries of the 'Sole Drive' are encouraged to send requests to Jasmine Crowe at jasmine@blackcelebritygiving.com.
For any additional information and for all PRESS inquiries–who would like to attend and cover this cause, please contact Stacy P at 281.788.0167 or via email at stacy.pr@gmail.com. I would love to make arrangements for interviews with Bun and his philanthropy efforts in his community.