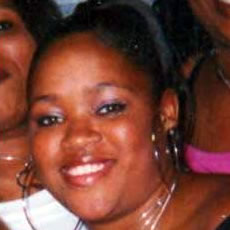 Case Type: Endangered
DOB: Dec 04, 1986
Missing Date: Mar 13, 2007
Age Now: 25
Missing City: Berkley
Missing State: MO
Case Number: 07-018933
Gender: Female
Race: Black
Complexion: Medium
Height: 5-3
Weight: 165
Hair Color: Brown
Hair Length: Long
Eye Color: Hazel
Wear Glasses or Contacts: No
Location Last Seen: Kelly was last seen at a friend's residence in the 8600 block of Frost Ave in Berkley, MO.
Circumstances of Disappearance: Kelly was still at the residence when the friend left for work and spoke to Kelly during the day while Kelly was at the apartment. When the friend returned, Kelly's belongings were still at the residence but Kelly was gone.
Last Seen Wearing: "Apple Bottom" blue jeans, blue blazer, silver sparkling shoes.
Identifying Marks or Characteristics: Kelly has two tattoos: one on her shoulder of two eyes and a rose and one behind her right ear of a half moon.
Have information about this missing person? Click here to submit information to our Tip Line