I am a huge supporter of the work of the Red Pump Project and the founders Lovette "Luvvie" Ajayi and Karyn Watkins. Taking on the notion that if it affects one of us it affects all of us to carry their mission nationwide, even getting superstar Alicia Keys to rock the red pump last year, these ladies deserver not only our support, but a round of applause, a nod to women's history month, these ladies certainly shine bright. Today kicks off the 10 day countdown to
National Women and Girls HIV/AIDS Awareness Day, the nationwide observance held each March 10 sheds light on the disease's often overlooked impact on women and girls and empowers people to make a difference.
The Red Pump Project has laid out these steps to get us through the weekend.
Friday, March 1: Educate yourself. Visit WomensHealth.gov to get the latest facts about women and HIV/AIDS.
Saturday, March 2: Find the nearest HIV testing site near you and make plans to go and get tested before March 10th.
Sunday, March 3: Bloggers, register here and download one of the custom Rock the Red Pump web badges to add a touch of fierce to your sites!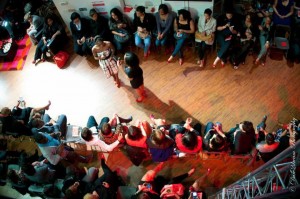 We'll add one more thing you can do this weekend to the list; purchase your tickets to the 4th Annual Rock the Red Fashion Show. The show will be held on March 23rd in Chicago. Rock the Red brings together our passion for social justice and our love of fashion, while commemorating National Women and Girls HIV/AIDS Awareness Day. Click here to buy your tickets now!
The organization is hosting a series of free events titled Cupcakes & Condoms happening March 9-10 in Atlanta, Charlotte, Dallas, or Washington D.C, you can learn more and RSVP for one in your city at theredpumpproject.com!