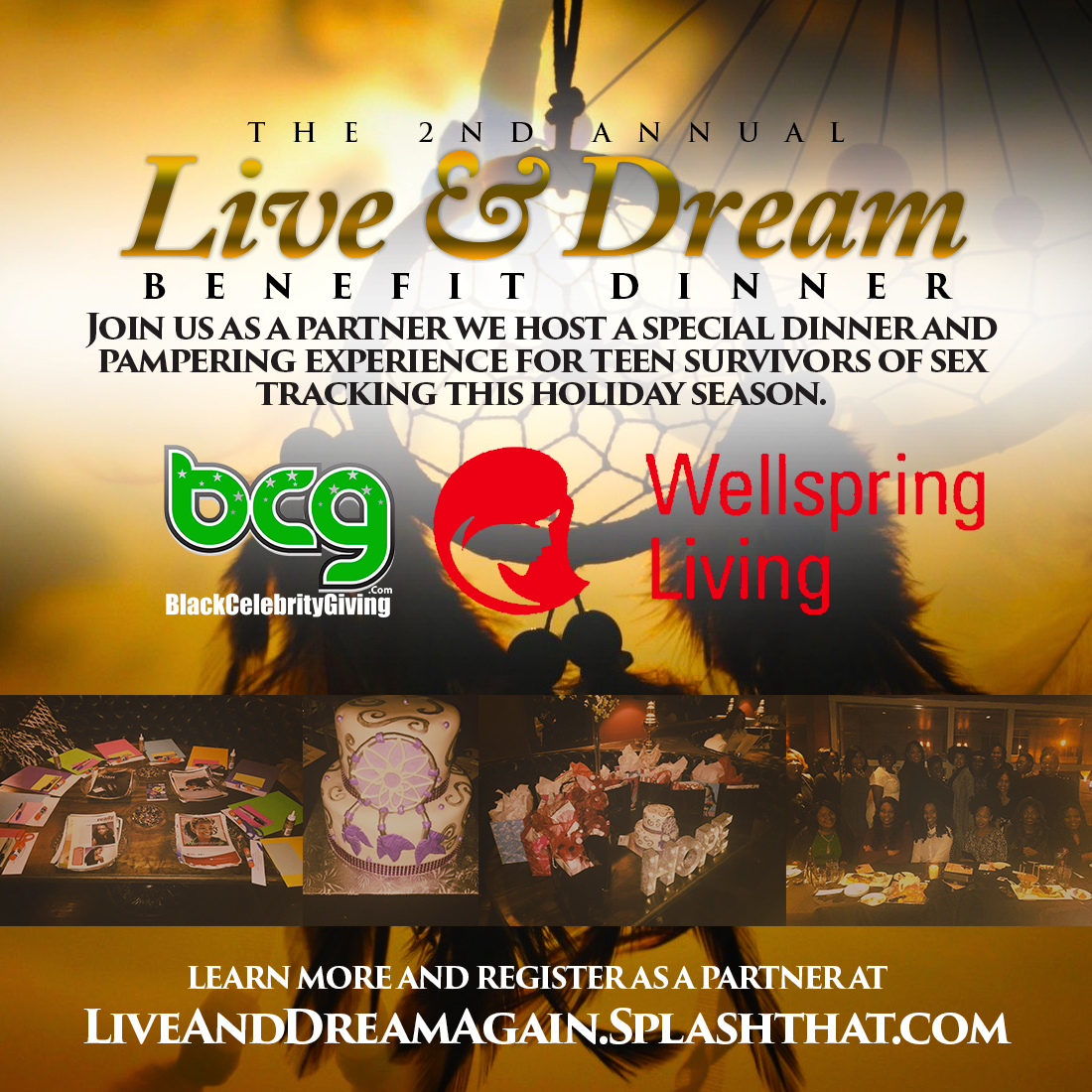 Black Celebrity Giving founder, Jasmine Crowe,  will host a Girls Night Out for teen survivors of Sex Trafficking in Atlanta, GA in partnership with Wellspring Living with special celebrity guests Demetria McKinney and Teri Vaughn.In Atlanta, anywhere from 200-300 girls that are trafficked each month with about 100 girls exploited every night, the numbers are huge. Statistics show these children are lured into this lifestyle at the age of 12, the typical girl is 14 on the street, many times they're runaways. They leave home because something is not healthy at home, leaving the child to look elsewhere for love. These kids are forced to sell themselves between eight and 12 times a night.
Mary Frances Bowley who runs Wellspring Living says "We know that they don't get the money, and sometimes they are very deprived, sometimes drugged to stay awake so they can perform more." We have the power to change the lives of these girls and you're invited to join us.
To take place Friday, December 9th,2016 the 2nd Annual To Live and Dream Again benefit dinner will bring together powerful Atlanta women to encourage survivors to dream again! Atlanta's women of power are invited to join us and  wrap their arms full of love around young girls who have been victims of sex trafficking.
The event will kick off with a pampering experience week where the young women will be treated to manicures and pedicures, they will then be treated to a shopping experience at Cupcake Mafia where they will be styled by Mz. Skittlez  and her team. There's more, our girls will have their hair styled at Gocha salon, courtesy of Gocha Hawkins of LA Hair and enjoy a skincare and make-up class with celebrity make-up artist Shenelle Mays-Smith! On Friday, December 9th we'll join together for a private dinner affair featuring 20 of Atlanta's most fearless women, catered dinner, desserts, photo booth, gifts and more, so are you in?
"Last year I hosted the Inaugural "To Live and Dream Again" Benefit Dinner for teen survivors of sex trafficking in Atlanta. It was an evening I will never forget, my spirit was so full and I can't wait  Nothing is more important this holiday season than giving back to those who have had so much taken from them. I invite Atlanta's most amazing women to join me for the cause ." ~ Jasmine Crowe, Founder of BCG
A few seats are still available for more information click here.