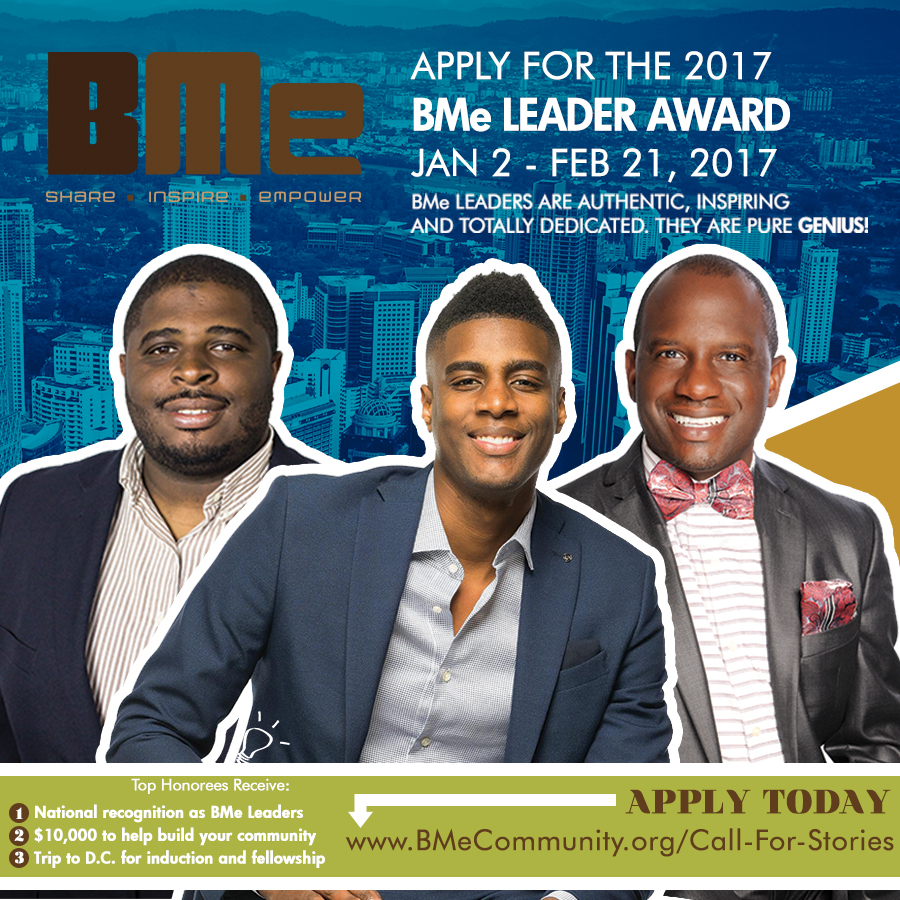 We all know an amazing black man in our communities, doing something great to push our communities forward. Here's an amazing opportunity to nominate someone in your community to win a $10,000 grant for their cause, the deadline to apply or nominate is February 17th so hurry. All the details you need to know are below and be sure to tell them you heard about this opportunity from BCG!
BMe Community is currently accepting applications of black men who are social entrepreneurs, innovators and difference-makers in greater Akron, Miami, Philadelphia or Pittsburgh.  Top applicants will receive national recognition as BMe Leaders, a $10,000 grant, local recognition and travel to Washington DC to be inducted into a lifelong fellowship of their peers.
Here's what they're looking for:
Tell us your story of a personal challenge you've overcame, a moment that changed everything, or what deeply motivates you to do remarkable things for your community.  BMe will score candidates on the remarkability of their stories, authenticity, willingness to work with others, community engagement, and diversity of age and fields. BMe is especially interested in those who work to improve health, wealth, know-how and community.
There are over 160 BMe Leaders including men like:
BMe also awards leaders whom others might not.
Shaka Senghor in Detroit (2012) and Chris Wilson in Baltimore (2014) each served over 16 years in prison for unrelated murders they committed as teens. BMe recognized each as BMe Leaders within 2 years of their release – sooner than anyone else. And BMe was right about them. By 2016, Wilson was named 40-Under-40 by the Baltimore Business Journal and Senghor's life story was told by Oprah and he became a New York Times bestselling author and activist. Both men were invited to the White House to receive the President's Voluntary Service Award in 2016.  Honorees MUST be available for the entire weekend of April 21-23 for induction. If you cannot be available then you cannot be selected. Applicants must live or work in one of the following metro areas.
Click Here to Submit Today!