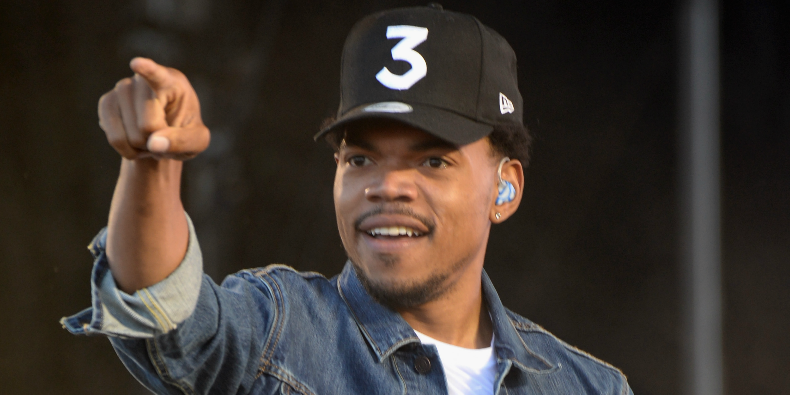 Chance the Rapper may just be the best thing to happen to Hip-hop in the past few years. Not only is the GRAMMY winning artists steadfastly independent, marching to the beat of his own drum but he's a true giver and his causes span from homelessness to youth. Can we all just agree for just one moment that this may be an answer to many prayers, our youth can look up to someone who yes is into the music, but also is committed to a better tomorrow for their sake. Today he put his money where his mouth is and donated a cool $1 Million to Chicago Public Schools!
Last year Chance teamed up with nonprofit The Empowerment Plan last year to launch Warmest Winter 2016, which is created one-of-a-kind, self-heating, water-resistant jackets for the homeless that can be converted into sleeping bags and over-the-shoulder bags. This year he's been focused on education and the youth of Chicago.
It all started with a tweet when Chance asked Illinois governor Rainer for a meeting. Chance's request, stems from his concern the funding for Chicago Public Schools, which has become a pawn in a bitter, two-year political struggle over the state budget between Rauner, a Republican, and Democratic state senate president John Cullerton. Illinois has not approved a full budget in two years, but the legislature has pushed through stopgap measures in order to keep schools open and running.
In February, the city's Board of Education sued the state on behalf of the city's black and Hispanic students, alleging that the state education funding scheme unlawfully discriminates against CPS' predominantly minority student body. (Despite enrolling nearly 20 percent of the state's students, CPS gets only about 15 percent of Illinois' education budget.) While his meeting with the governor didn't go as planned on Friday, he pressed on.
Today, Chance the Rapper held a press conference today at Westcott Elementary School in Chicago to announce that he is donating $1 million to Chicago Public Schools. "Our kids should not be held hostage because of political positions," he said. He later revealed that he and Common will speak on the phone to discuss further funding. The announcement follows his meeting with Illinois governor Bruce Rauner last week, where they discussed public education and other "important issues affecting" the city of Chicago and Illinois as a whole. Immediately following the meeting, Chance expressed his frustration, saying, "It went a little different than it should have," and that he was given vague answers when speaking with the governor. At the press conference, he reiterated that Gov. Rauner gave him "vague" answers, and shouted, "Gov. Rauner, do your job!"
Chance has also updated his website with a link to support Chicago Public Schools. Learn more here, way to go Chance, you are the TRUTH!