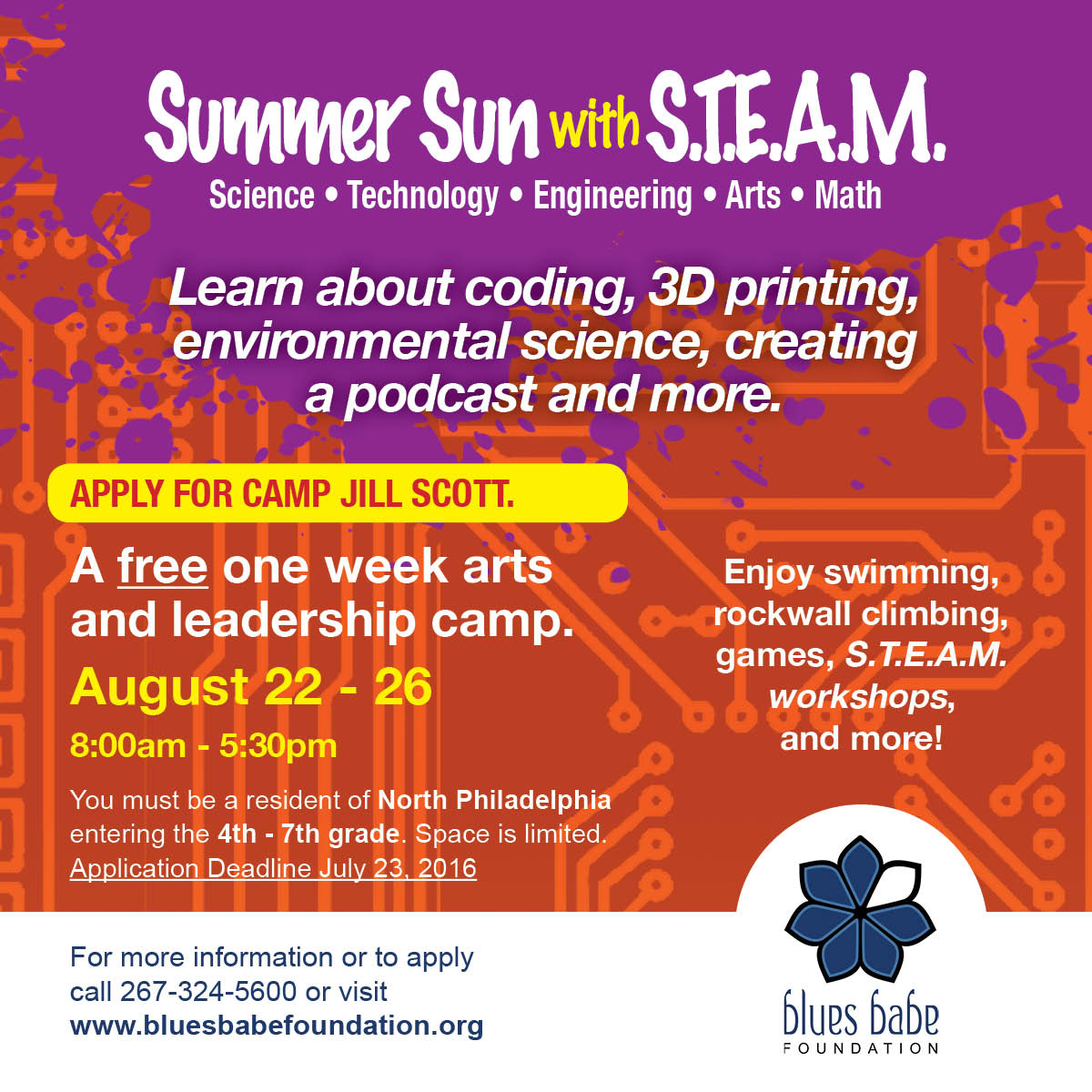 CAMP Jill Scott, an annual end-of-summer gift given to North Philadelphia students by their very own, Grammy-award winning songstress Jill Scott, will return for Summer 2016 from August 22 – 26. This year's theme for Camp Jill Scott is "S.T.E.A.M.: Exploration and Innovation", introducing campers to a contemporary style of learning and discovery that focuses on Science, Technology, Engineering, Arts and Math. Scott's non-profit organization, Blues Babe Foundation will transport 32 children ranging in age from 8 -12 who are all currently living in underprivileged sections of North Philadelphia to the beautiful, sprawling country-side camp grounds of Briarwood Day Camp for a FREE 5 day experience filled with educational, cultural and sports activities.
In its eighth year, CAMP Jill Scott has empowered hundreds of at-risk youth from Jill's old neighborhood in North Philly, challenging them to unearth their hidden talents and elevate their education by providing them with tools and resources that will not only impact youth culture in their area, but ultimately across the globe. Renowned for leaving an indelible mark in the lives of so many young people in the past, this year, the camp is proud to have former campers return as staff members, leading the next generation.
Focused areas of concentration will include developing social skills, problem solving, and conflict resolution. The camp has continued to flourish under the guidance of Camp Director, Aisha Winfield who says, "Each year we look for new ways to broaden our scope of learning and offer our young scholars innovative pathways to self -discovery and vision for their lives. The S.T.E.A.M model is the perfect blueprint to achieve our goal for this year."
In 2015 Camp Jill Scott partnered with Hallmark Mahogany to launch a national scholarship for students interested in a career in writing arts.
For more information about Camp Jill Scott or Blues Babe Foundation visit:
www.bluesbabefoundation.org. To learn about S.T.E.A.M. visit stemtosteam.org/about/.