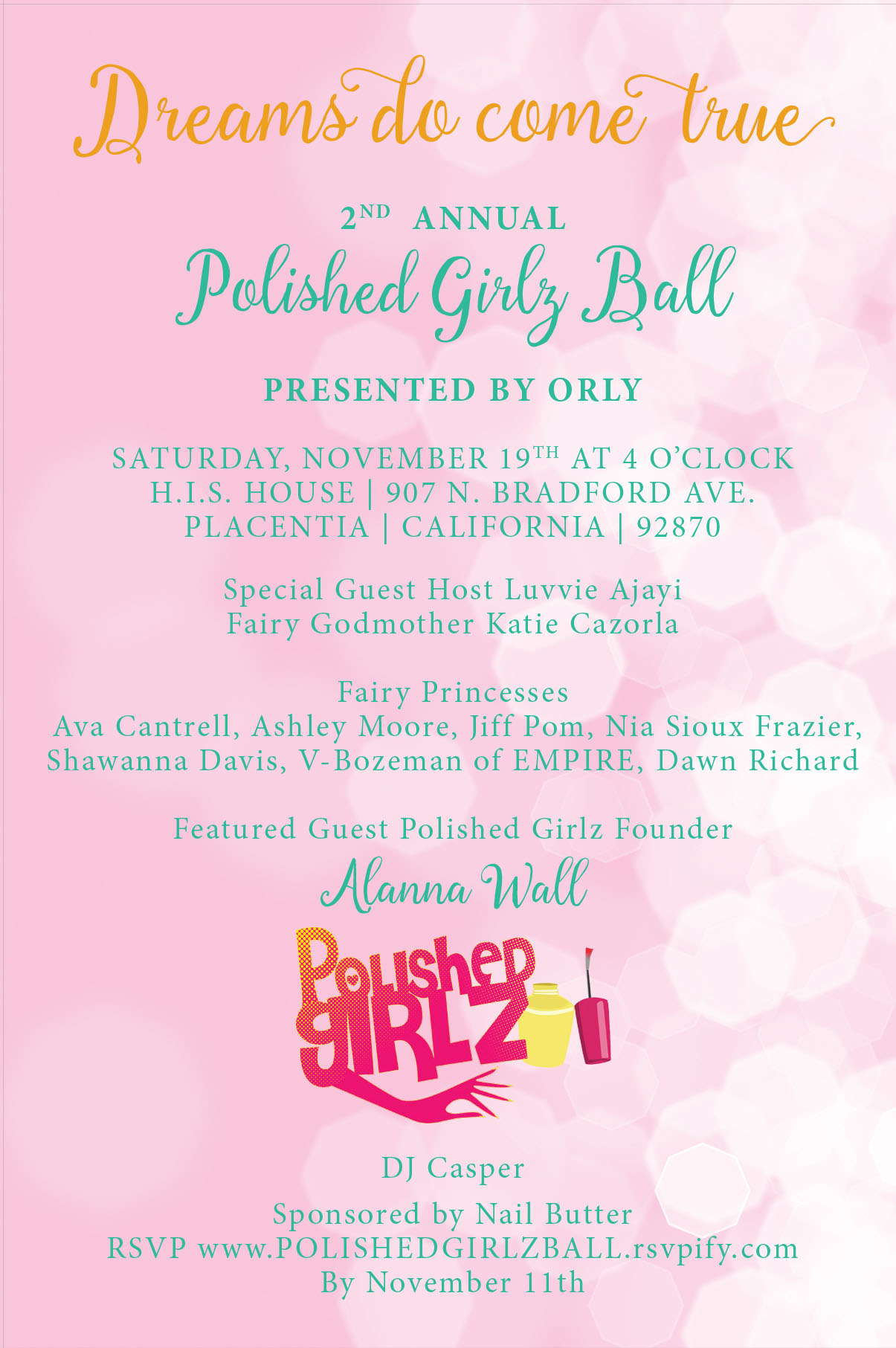 Alanna Wall teen CEO of Polished Girlz has joined with celebrities and partners to create a Fantasy Ball for over 200 guest at an Orange County Shelter.
Polished Girlz founder Alanna Wall worked closely with presenting sponsor Orly International to create two custom nail polishes for the 2nd Annual Polished Girlz Ball. The two colors, Belle of the Ball (a silver holographic glitter) and Polished Girlz 2016 (a shocking pink crème), will be included in the gift bags for the Nov. 19 event. A limited production run of 225 means the polishes won't be available for resale and are only available to guests in attendance.
"We worked with Alanna to create colors that represented the amazing work Polished Girlz does and that conveyed the spirit of the Polished Girlz Ball," explained John Galea, director of communications for Orly.
This years 2nd Annual Polished Girlz Ball benefits the women and children (including dads too if present) of the H.I.S. House Women's and Children Transitional Shelter in Placentia, CA. The shelter houses 12 families as well as five families in adjacent housing. The women and children will be treated to nails by celebrity nail artist, hair by the Paul Mitchell Team, makeup by Morphe Cosmetics and styling while dressed in beautiful attire that they will keep. They will be presented with special gift bags and have the opportunity to connect with celebrity guests, partake in fun activities and indulge in delicious food.
Orly International has been a longtime supporter of Wall and her organization. In addition to the two polish colors, the brand will have its Mixology Cart at the ball so that guests can create custom colors to take home.
"It's really an honor to work so closely with such a well recognized name in the nail industry," said Wall. "I am thrilled with the level of involvement they bring to the table and can't wait to show everyone at H.I.S. House how much love surrounds them."
Polished Girlz was founded in 2011 by then 10 year old Alanna Wall to host mini manicure parties for children with special needs or that are hospitalized. To date Alanna has grown volunteer teams in over 32 states and over 16,000 clients. The Polished Girlz Ball events are an annual event in which a special organization is chosen to have the entire facility transformed into the prom that many of her special clients may not ever get to experience. This years special guest include Ava Cantrell of Lights out Movie, International DJ Casper of Empire, Nia Sioux Frasier of Dance Moms, and host New York best selling author Luvvie Ajayi.