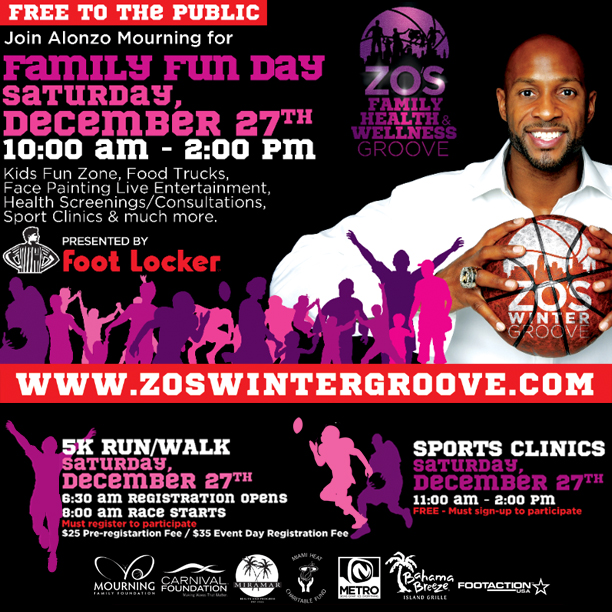 Former Miami Heat superstar and 2014 Naismith Memorial Basketball Hall of Famer Alonzo Mourning and the Mourning Family Foundation (MFF) present the first annual Zo's Winter Groove (ZWG) Dec. 27th-29th – the sister event to Zo's Summer Groove of years past. The three-day "Groove" will feature a Family Health & Wellness Groove on Saturday, Dec. 27th, Comedy Groove on Sunday, Dec. 28th, and Hall of Fame Golf Groove on Monday, Dec. 29th, hosted by Alonzo and Tracy Mourning.
In recognition of Alonzo's recent appointment to President Obama's Council on Fitness, Sports and Nutrition, the first "Groove" of the weekend will be Zo's Family Health & Wellness Day on Saturday, Dec. 27th. Event day activities will include a 5k run/walk, football and basketball clinics, fitness classes, and health screenings; the event will be co-presented by the City of Miramar at Miramar Regional Park, 6801 Miramar Pkwy, Miramar, FL 33027.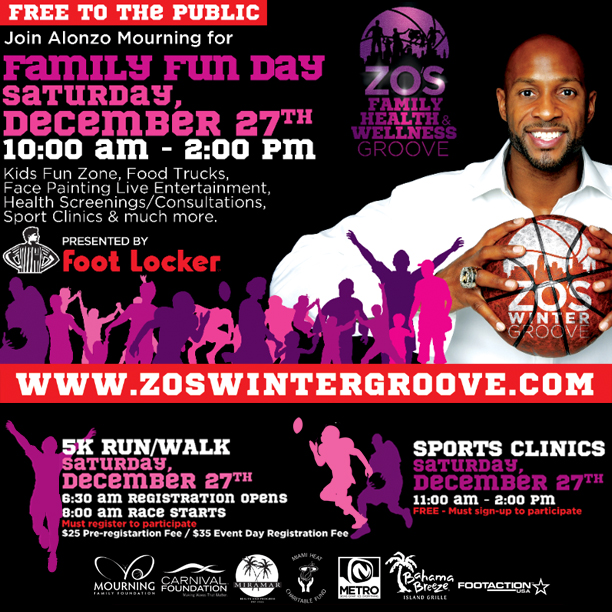 A private Comedy Show will follow on Sunday, Dec. 28th, at the JW Marriot Marquis, 255 Biscayne Boulevard Way, Miami, FL 33131, to fundraise while honoring previous and continuous supporters of the Mourning Family Foundation as VIP guests. Comedian Rodney Grant will host the show, featuring stand-up by Def Comedy Jam and Laff Mob's Robert Sumner, John "Honest John" Basinger, Karlous Miller, Robert Powell, and Ashima Franklin.

"For fifteen summers, my wife and I produced the one-week fundraising event Zo's Summer Groove and raised more than $10 million during its tenure," said Alonzo Mourning. "Now after three years, as the Mourning Family Foundation, we can't wait to create yet another signature Groove. And there's no better place than Miami to do so. Not only is it America's winter playground, but it is my home."
The weekend "Groove" will then wrap up with Zo's Hall of Fame Golf Tournament at Turnberry Isle Resorts & Golf Course, 19999 West Country Club Drive, Aventura, FL 33180, on Monday, Dec. 29th. The tournament will feature over 80 golfers, Groove Golf Ambassadors, "Hall of Famers" and tastemakers from sports, music, television, motion pictures and business, including Julius Erving (NBA Hall of Fame), Cornelius Bennett (NFL Professional Bowler), and Bruce Smith (NFL Professional Bowler), and others. All monies raised on the green will directly impact the lives of young children and families in the greater Miami area.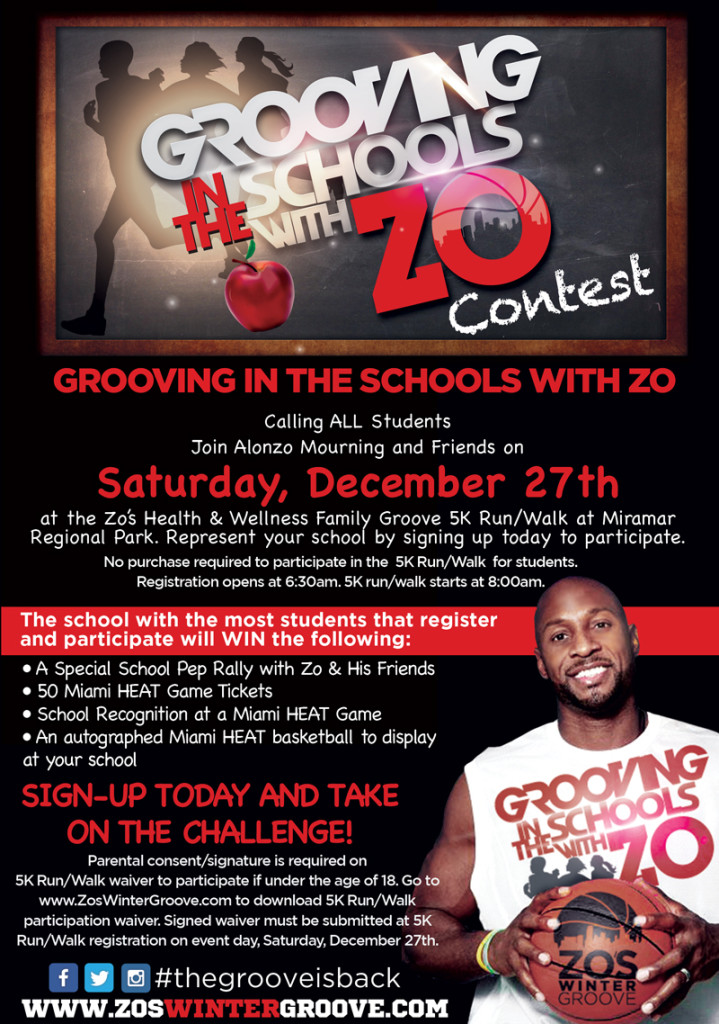 If you live in the Miami area the foundation has just announced an amazing initiative aimed at getting kids healthy and giving back. Make sure to spread the word today and win for your school! To learn more about the Mourning Family Foundation's Zo's Winter Groove visit www.ZosWinterGroove.com!